We are living in a competitive world where there is only the survival of the fittest. For small business, they need to survive competition from businesses of similar scale or from the next segment Medium sized businesses.
ERP software for small business is really important as a good ERP system helps to manage all the important departments of your business like Sales, Purchases, Warehouse/Inventory, CRM, HRM, Accounting, Customer portal, Issues Tracking etc.
Small businesses cannot afford the likes of SAP, Oracle or NetSuite. Whether you are in the services or products market, most important rule of thumb is to serve your customers in the best possible way. A good Small business ERP like Odoo (Previously OpenERP) can help you in achieving the same. Lets have a deep look on how a small business ERP like Odoo can help you run your business smarter.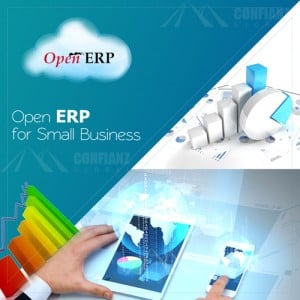 As a small business ERP, Odoo/OpenERP makes sure that all your departments are interconnected. It is always a costly option to have disconnected business systems for different departments which creates wastage of employee time, growing Data integrity issues and more importantly customer complaints.
Do you already have existing disconnected systems? Don't worry, at Confianz we help our Odoo (OpenERP) customers to migrate from their existing systems like Peachtree, QuickBooks, Tally, Vtiger, Salesforce, Zoho, NetSuite, Custom system etc saving them good money on an yearly basis. Since all your departments run using a single OpenERP system, there are no data integrity issues. Most importantly OpenERP / Odoo is an open source system so it doesn't burn your pocket either.
Odoo/OpenERP talks to your CMS based website or E-commerce systems like Prestashop or Magento making it easy to manage online and offline transactions against the same stock using drop shipping or direct shipping.
If you want to run your small business smarter, improve your customer services, reduce customer complaints, increase productivity and have good business traction, then the best erp for small business is Odoo