Just like every Odoo ERP user, we are excited with the news of Odoo version 16 being released in October 2022. While the previous version of Odoo was an extremely powerful tool for building integrated ERP systems, the latest upgrade of Odoo adds new features that are simply brilliant. 
Let's start with the straightforward yet immensely thoughtful features of Odoo right away. Odoo 16 incorporates customization options of dark mode for gifting a personalized user experience through a clean user interface. This is a convenient and advantageous feature for users working late at night; protecting their eyes and overall well-being. In addition to this, when the assignment is tedious and requires constant attention, you may sometimes forget to save your work. This latest version of Odoo has you covered with its user-friendly Auto-Save feature to avoid losing hours of hard work. This enables you to focus more on context switching and multitasking without having to manually save at every stage.
Dark Mode Feature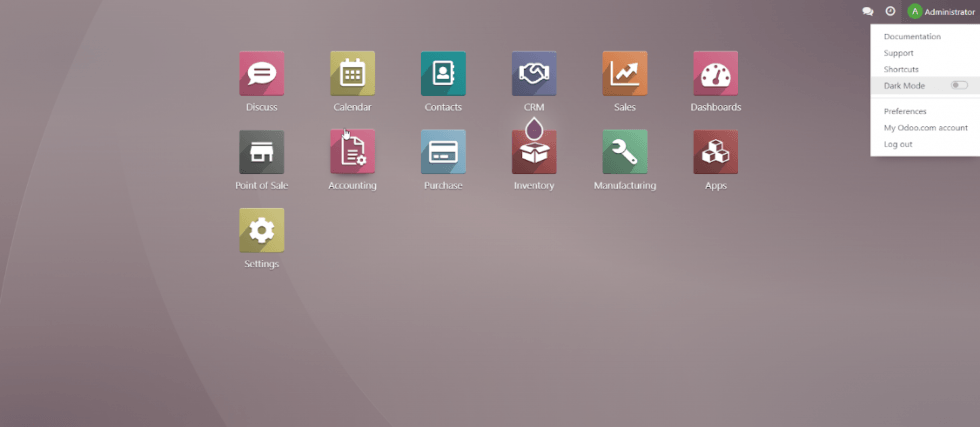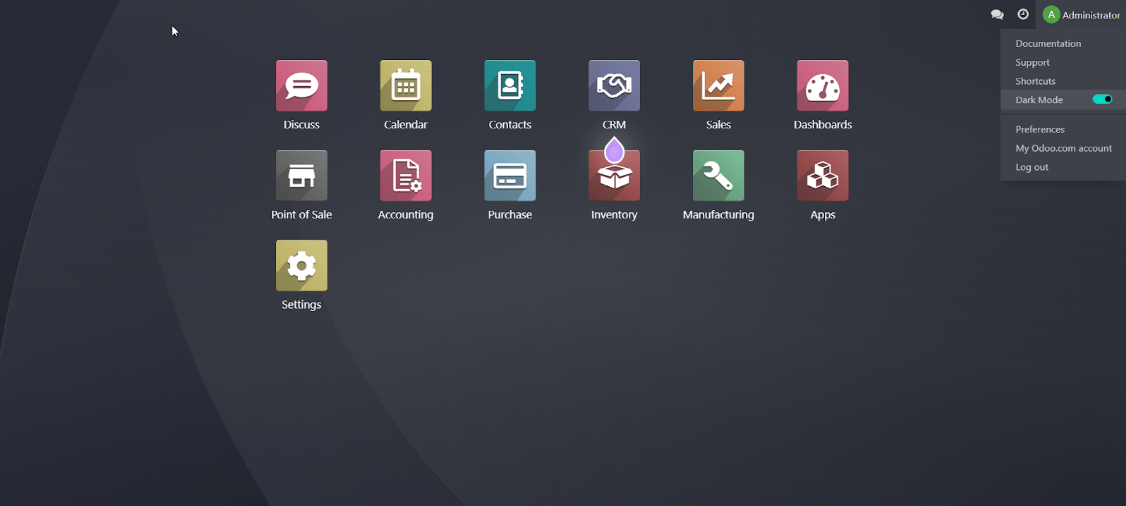 Now let's elaborate on the technological advancement that Odoo 16 has to offer. There are vast improvements in the performance of websites, both from front-end and back-end perspectives. Significant enhancements have been made in the loading of controllers, resulting in websites and e-commerce applications running 2.7x faster. Similarly, every page is nearly 3.7x faster to render and load in the backend. This means that when users hit your website, they experience less wait time, empowering your business to grow significantly.
In terms of the user interface, Odoo now offers a more comprehensive Kanban view that lists all ongoing or completed projects on a well-designed dashboard. There are notable upgrades to email templates that can be set up and customized exactly as per your business needs. You can also preview how emails will look on a mobile device with the new Mobile Preview function. 
Moreover, the new GDPR module is a boon for your organization to address concerns about data security. It automatically highlights contact details and GDPR-classified data for your attention.
The above highlights were at the user interface front. Now let's dive deeper into individual module enhancements.  
Accounting Module

Accounting, a quintessential module for any business, has a lot of significant upgrades to list out. Odoo 16 has introduced a new Analytics widget on invoices, assisting in quicker and better analysis of invoices and plans, along with mass edits of analytics while using the list view. Reporting is a major part of any accounting feature, and this new Odoo version has completely altered its reporting module, providing better performance, UI, audits, and definition. The Asset Cancellation feature was missing in previous versions of Odoo but has been added in the latest version. Apart from this, negative assets and depreciation calculation features are also added to the Assets along with a Non-Deductible Tax feature, if any, which gets added to the original asset value. 
Importing data into an accounting report is a common step while handling account documents. Thanks to Odoo 16's importing capabilities simplifying these steps, you can now import contacts, charts of accounts, and journal items and simply drag and drop files like invoice pdfs, etc. right onto the Accounting Dashboard or the Journals List View. For pdfs, the upgraded OCR feature can now understand any invoice as easily as detect them. OCR now validates and identifies partners with different fields present on the invoice uploaded, making the user's task much easier. Invoices mean payments, and there are a few notable features present in the Payments functions. Batch payments highlight a couple of new upgrades, the chatter, and activities schedule, and an option for users to cancel refused payments. With regards to payments, a couple of great features are introduced, for eg. you can add in cash discounts and set up a credit limit for companies and/or partners. Total amounts are updated in real time as you group payments together. There is also a reconciliation journal entry maintained for exchange rates between foreign currencies. A new setting option, Storno Accounting can help you reverse original accounting entries in case of negative debits and credits. While these are the primary accounting features worth highlighting, there numerous other improvements to ease the users' activities into accounting. Also, a lot of localization upgrades are available based on the region of use. 
Marketing Module: Email Marketing & Social Marketing
Businesses survive based on how well you market them, and Odoo 16 has some upgrades to simplify this process with its new email features. You can now save time in editing email contacts by the Mass edit option. Pictorial representations in emails have been improved by adding shapes to mailing images. You can now create customized Newsletter Snippets to keep prospective customers intrigued about your business. Save mailings and filters as templates for quicker reuse. Moreover, the Social Marketing feature is interesting in Odoo 16, where you can retweet and quote tweets directly from your dashboard rather than browsing the Twitter app separately. You can also create Customer Leads from any social post or comments to help expand business reach.
CRM Module
Let us now elaborate on the enhancements for the CRM modules. Using this new Odoo version, we can add a Lead Analysis feature which can benefit you in viewing every lead and its performance in a single report. You can also install and assign different languages to the various leads that can improve your communications. If any lead expresses interest, you can now create Calendar invites, and these invites will now be directly displayed on that Lead. You can also Merge Leads into a single report and all empty fields will be automatically filled in based on data from the source merge. You can also detect similar leads based on contacts from the source leads.

Lead Analysis Feature in CRM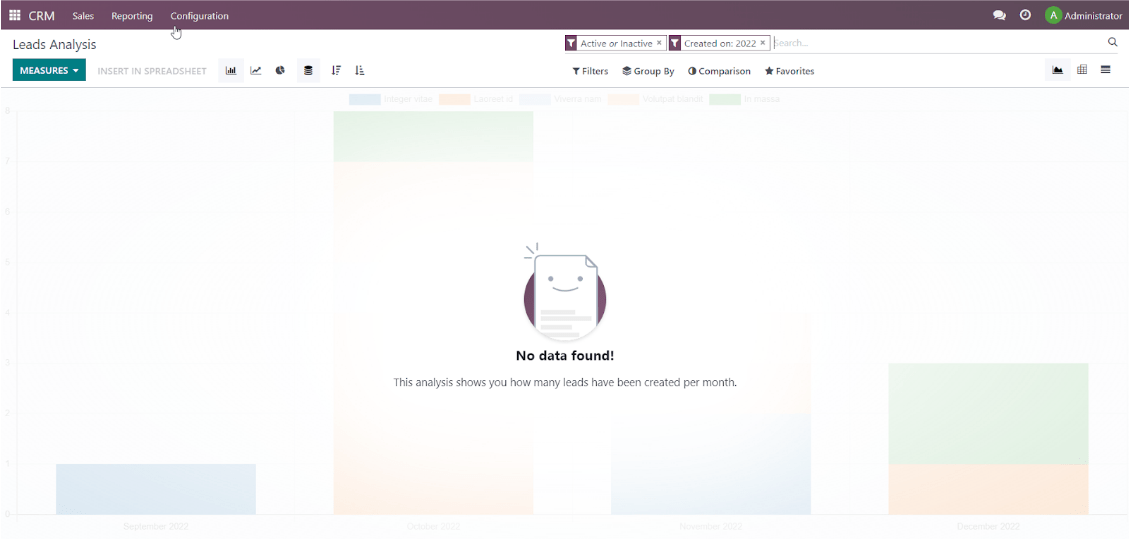 Manufacturing Module
One of the key factors to successfully managing a manufacturing division is detailed reporting. Odoo 16 offers impressive reporting features to which further improvements have been made. Firstly, you can provide allocation reports corresponding to the manufacturing orders. Secondly, the automatic addition of parent/child relationships between linked orders will help in more accurate reporting. In addition to this, you can also get updates on the inventory of expired lots through the Expired Lots Notifications feature. In addition to this, the Tablet view of the work orders has gone through a significant revamp. This software attempts to improve the manufacturing process with its new features and added functionalities like Operational dependencies, return and repair, and subcontracting portals.
Allocation Reports corresponding to Manufacturing orders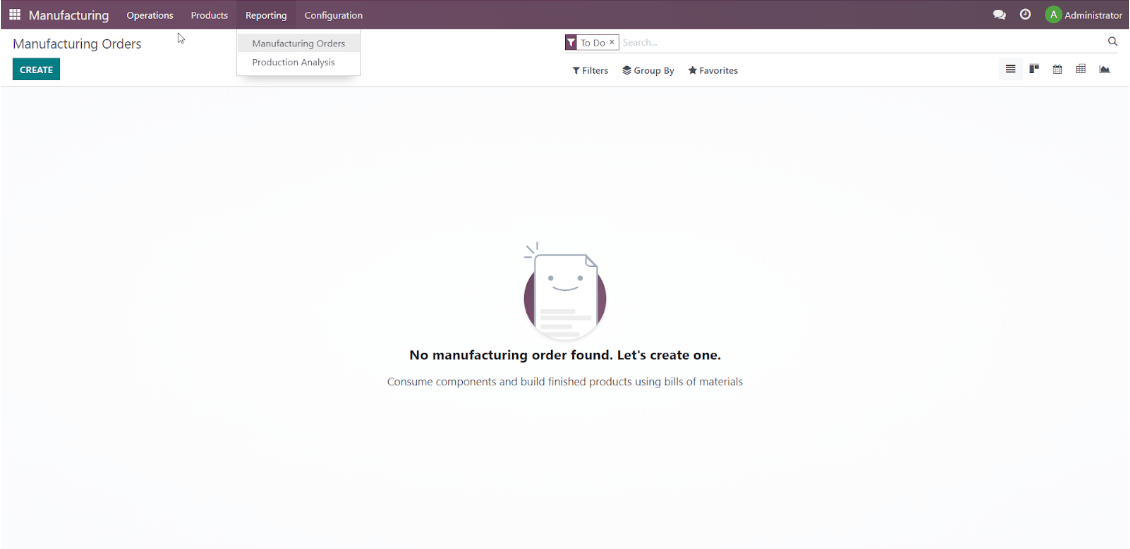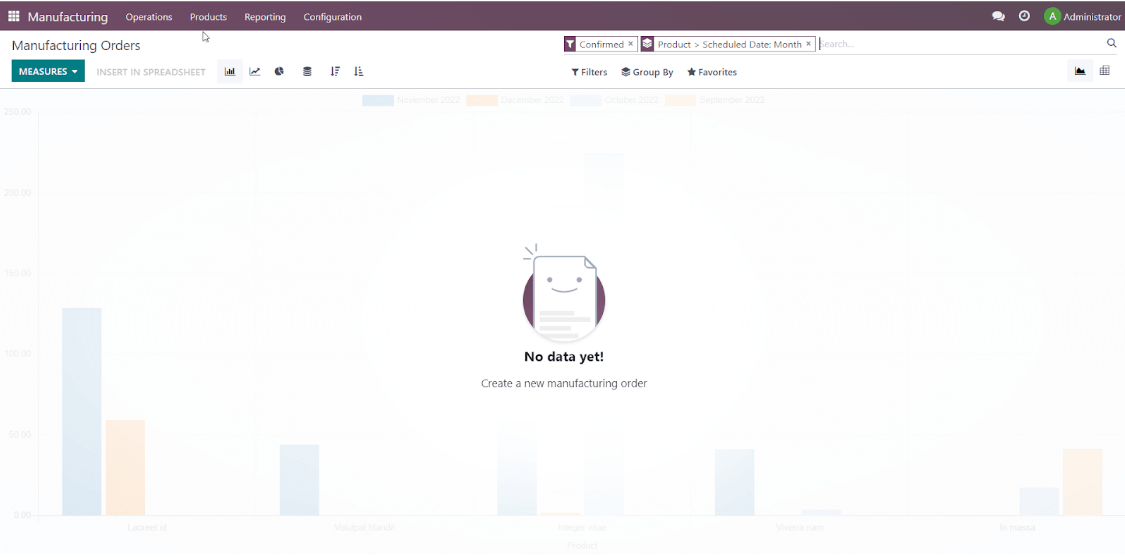 Sales Module
Keep the heart of your business pumping by introducing the intelligent Odoo Sales module into your ERP solution. To elevate sales of your business, you will have the facility to link an Amazon account with Seller Central along with all the various online marketplaces. You can also add delivery status on sales orders to keep track of all the deliveries. Odoo 16 also introduces coupons, offers, loyalty points, and e-wallet features which can be included in your solution to empower sales and grow your customer base.
eCommerce Module
One of the most widely used modules of Odoo is eCommerce. Significant updates have been added to it. Reminders can be added to alert customers of abandoned carts. Users' sign-in can be made mandatory for checkout to better manage user profiles. A very handy feature for customers is the Back in Stock Notification that alerts customers when a product is back in stock for purchase. Preventing the sale of a product is the other side of the coin that is also possible now, to restrict users from buying certain products. Another essential and user-friendly feature added is the ability to re-order from the customer portal, saving time for customers. Customers also now have an option for ordering products on a rental basis with the Rental feature that can be added to the website. You can now add an option for the user to pick up and pay in-store. From the seller's perspective, there is ease in uploading multiple product pictures with the Bulk Picture Upload mode. 

Calendar Module
Some of the significant upgrades to streamline the workflow includes the Video Calls feature in the Calendar. This enables a user to check directly for any video calls that they may have to attend. Alternatively, video calls can be made in meetings for important events from the Event Form too. 
Video Calling feature in Calendar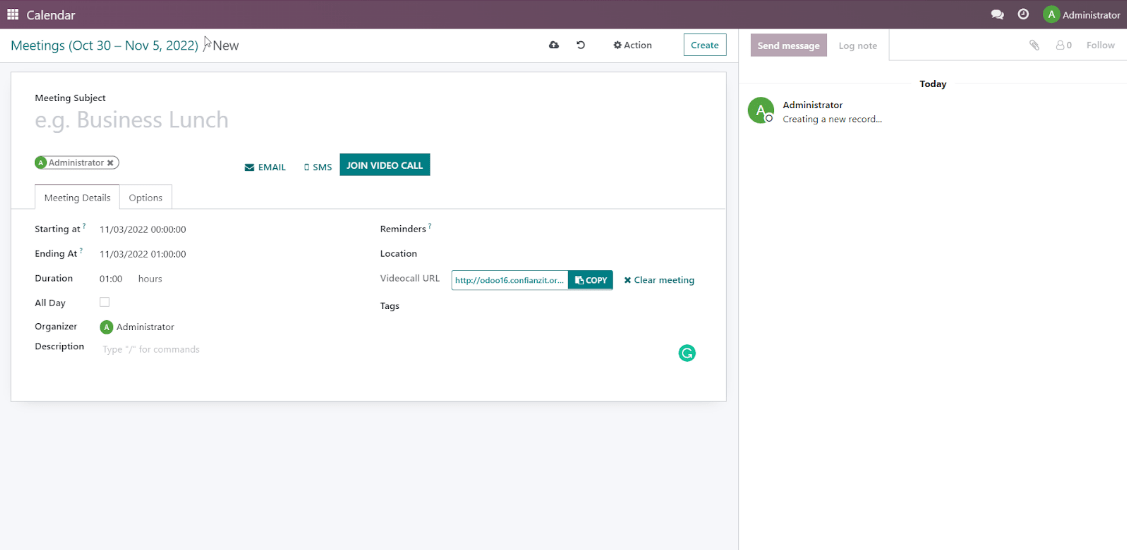 Another additional functionality called "Extra Hours" makes the user aware of the employees who contributed extra hours to achieve certain targets. It helps in knowing clock-in hours for a particular day and any additional extra hours spent. One of the new features in Odoo 16, "Kiosk Mode Authentication" assists employees in swiping in and swiping out.  
Barcodes Module
Odoo 16 also has a process to include Barcodes that will authenticate any product customers have purchased. You can select the scanning process for the products to keep a track of the number of products received. This feature is useful so that the products don't get lost or misplaced. There is also a chat window to text and guide employees on the Barcode operation.

Online Appointments Module
Online Appointments are perfect for organizations in streamlining and scheduling workflows to better manage time. Odoo 16 includes this new feature of publishing appointments, setting default reminders and schedules, location, meeting links for online appointments, scheduling appointments, etc. for better business management.  

Timesheets Module
In addition to the numerous new features, this new version 16 of Odoo introduces the "Timesheet" application. This module helps businesses track the timeline of every project. The timeline will appear on a consolidated sheet to easily show if the project is running on time or if there may be delays. Users can lock the dates of employees to avoid any modifications. Report generation based on entries made on the timesheet for sales, invoices, and tickets is easier than ever.  

Recruitment Module
Every employer desires to have a smooth and time-saving hiring process to onboard employees as soon as possible. This is possible with the Odoo 16 recruitment feature that covers every possible element you can think of. Employers can add skill sets of applicants, signature requests for a seamless recruitment procedure, and even digitize CVs. Employers can also add more fields specific to a job role.
Appraisal Module
Odoo 16 also introduces an Appraisal module to assist businesses in assessing their employees' performance. This new functionality has a 360 Feedback Template which can be enabled in your application for a seamless employee performance assessment process. It is also beneficial in furnishing employee skills for appraisal inputs given in the 360 Feedback form. There is also a reporting feature that can immensely help businesses to know if any employees upgraded their skill sets too.  

Event Module
Organizations, enterprises, and many small-scale businesses wish to collaborate with employees through specific events. Thanks to this new version of Odoo, users can create an application featuring locations for events, track registration, add timezones for events, and input mandatory questions for the event. 
Live Chat Module
The Live Chat option has become extremely popular in most business applications developed these days. The new chatbot has been integrated with Odoo 16 as it assists organizations to build a customer base for the long term. This will help your application to directly interact with a prospective customer and display any notifications too.  

Website Module
The Odoo 16 website module has gone through a major revamp. Any website is the starting point for the relationship between a business and a user. User-friendly websites can easily be designed and businesses can attain critical analytical information with Plausible.io, the latest analytical tool addition in Odoo 16. Get websites to ask for user consent for storing non-essential cookies. Throw in a floating chat icon rather than the live Chat option. Websites can now be edited directly in mobile view, rather than having to go through an additional step of editing it in desktop mode and then viewing it in mobile view. Websites can now get direct assistance from GeoIP to set the phone country code directly. Social media is a key revenue generator and we can now add social media building blocks directly onto websites for easy access.
Inventory Module
There are substantial new features available in the Inventory Management module of Odoo 16. We can now create automatic backorders for each operation type. The user can now be warned if there are duplicate serial numbers added to the inventory. Specific locations can be selected as replenishment locations, allowing users to view their available stock from other warehouses being used for resupply. Replenishment Visibility days can be set as a rule to determine the quantity needed and post the forecast date using the inventory module.  

Purchase Module
While there are not many changes in this module as compared to Odoo 15, Purchasing is always an important aspect of any business. Any difference between the bill and purchase order price is corrected automatically. The purchase history of products can be viewed on the Request for Quotations, providing easier tracking of price. 

Point of Sale Module
The Point of Sale for a customer is vital to execute a sale successfully. Enticing customers can be done with ease using offers, promotions, coupons, and gift cards that can be added for customers checking out. Our current digital era results in every business leaning towards e-wallets, which can be added with Odoo 16. Invoices not generated correctly or in the current session can now be generated for lost or previous sessions. Even customers can request invoices by themselves. Loyalty programs can be placed into the PoS for the customers' benefit. PoS orders can now be made auto-confirming orders after payment completion. 

Sign Module
Confidentiality and consent are of utmost importance in any ERP solution. This Signature module allows you to create real signatures into essential documents. It gives the users an option to auto-add their signature by default instead of having them draw it every time. Create a signing order to determine the flow of signatures required, and notifications when it is a user's turn. If a user doesn't wish to sign, there is an option added to allow users to reject signatures as well. For a more realistic feel, a new visual frame has been added so that people get an idea of where the signature is getting placed in the actual document.  

Project Module
The Project Module has undergone plenty of changes with the latest version of Odoo. Tasks have a direct option to manage documents with ease. An updated Gantt Chart view keeps the user up to date with all the resource allocations on that project. Tasks can be scheduled automatically via the Gantt Chart view as well. Tagging is much improved to keep only relevant tags present on tasks. Get notified via SMS when a task reaches specific stages.  

Conclusion
While we highlight some of the key advancements in Odoo 16, there are several new and useful features highlighted in the release notes Odoo 16. This new version of Odoo has the potential to benefit almost every organization with its features and sophisticated environment. It has been specially designed to create intelligent ERP systems aiding companies to better manage employees and work harmoniously. It is the powerhouse for users who need to keep track of numerous business operations everyday. Moreover, the applications designed with this software will be comfortable to work with thanks to its personalized features catering to the requirements of users whose job responsibilities are significantly dependent upon the application. ERP systems using Odoo 16 can be equipped with more tools than their earlier versions. Thus Odoo 16 qualifies the requirements for designing an end-to-end ERP solution. This will enable its users to make better decisions to achieve their targets. 

This is why Confianz is delighted to upgrade to the latest Odoo 16 version and build a customized ERP solution matching your requirements. Our team has the zeal to create ERP solutions best in functionality and experience.
Click here to have a free Odoo 16 demo with us now!
If you think Odoo is the right choice for you, but you're hesitating because of the barrier of entry, we can help! As certified Odoo partners, the Confianz team is well-versed in ERP software. We provide you the best Odoo ERP implementation services to improve your business efficiency. We can walk you through every step of Odoo Implementation to make sure you're getting the most out of your ERP. Call us today to get started!