Odoo 13 launch date 
Odoo has already proven itself to be a game-changing tool for businesses. Odoo 13 is set to release at the Odoo Experience in October 2019, and everyone's looking forward to seeing what this new version has in store.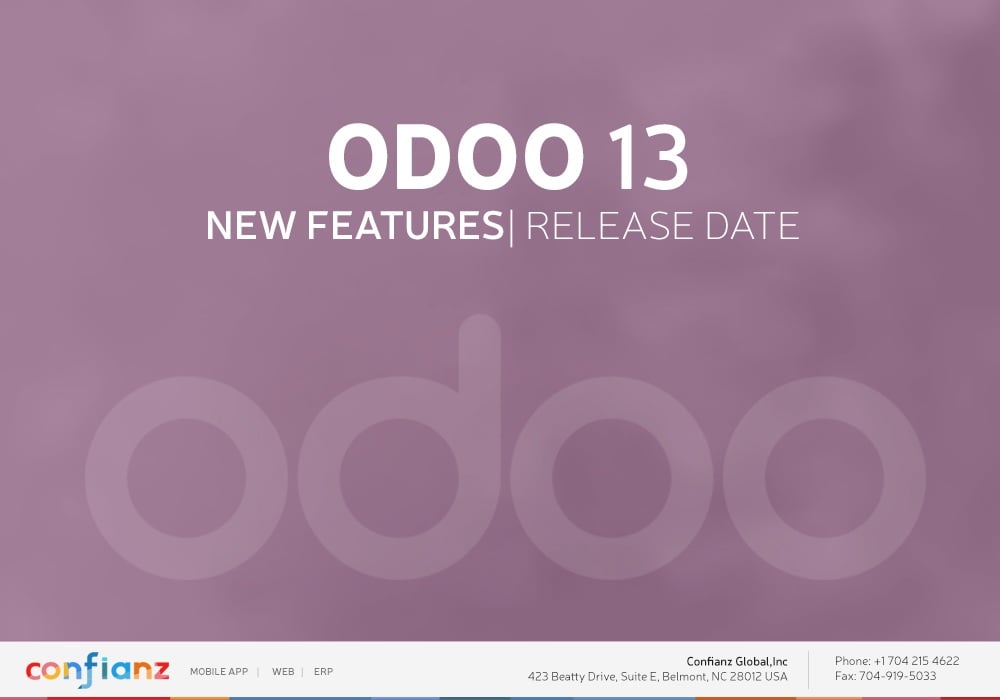 Odoo 13 new features include : 
1. Coupons and form builder modules moving to the community version
The website form builder and sales coupons and promotions modules are moving from the to the community version of Odoo 13. This means that you can add contact and forms to your website to collect user information along with promotions and discounts to attract new customers.
2. MRP subcontracting
Companies that outsource manufacturing for a part or full product can use the MRP subcontracting for BOM feature in Odoo 13 to streamline ordering and payment.
3. Skill management module
Odoo 13 will have a new module for managers to manage their employees. It builds on the current employee module and allows managers to keep track of your employees' resumes, skills, training, and more in one spot.
4. Embed product videos on your website
With Odoo 13, you can feature product videos directly on your eCommerce website. This can lead to higher conversion rates for your site.
5. HR and payroll features
HR payroll is moving to the Enterprise version of Odoo 13. There's also a new payroll planning feature along with some HR features. Odoo 13 will automatically be able to detect whether an employee is present or absent based on their activity. In addition, "leave" has been renamed "time off." You can set up an automatic "out of office" message when you take time off.
6. Chartjs available
Chartjs opens up a range of possibilities for highlighting specific statistics and building advanced portals.
7. Odoo 13 has renamed "delivery method" "shipping method."
8. Odoo 13 is going to run on jQuery 3.
9. Additional after-sales services
You'll be able to manage returns, coupons, refunds, and repairs from your helpdesk tickets on Odoo 13. You can integrate your support teams with other departments, like sales, projects, warehouse, and accounting.
10. Odoo survey updates
You'll be able to manage online certifications with Odoo Survey in Odoo 13. This includes managing attempts, test deadline, on-screen timer, and scores. You can also send and print certificates. There's also a new answer type, "date time," in Odoo Survey.
11. HTML editor support is now in checklists.
12. Improved invoicing process
There have been several improvements to invoicing sales orders. Invoicing has improved wording along with the ability to choose whether you want to include the option to deduct down payments.
13. FedEx labels
You can directly print FedEx return shipping labels. You can also generate and print return labels for other carriers.
14. New signature widget
With Odoo 13, you can add signatures anywhere using Odoo Studio. You can also request signatures in any process, such as on delivery receipts and purchase orders.
15. Timer displayed on work orders.
16. New field service management app
17. Search panel now in Kanban view.
18. Lazy loading for java-script files
If you need help with odoo customization and related odoo integration services contact us today to hire our odoo developers