Any business firm deciding to implement an ERP has to optimally analyze the risk/ benefits involved throughout the process.The best practices need to be followed as the Golden rule for ERP implementation to accelerate enterprise performance management.every business process implementation will affect many units, stakeholders, processes etc, hence the need to follow the best ERP practices are undoubtedly a priority.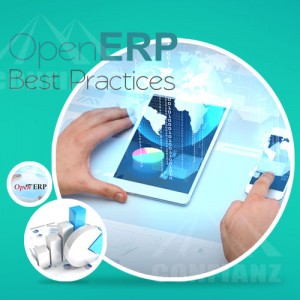 Means
Best Practices in ERP context means, the usage of fundamental ERP set up to maximize customer value, streamlining processes and augmenting the utility which definitely leads to leaner and cleaner systems. This is further supported by the Kaizen philosophy,thanks to the Japanese for reinforcing the art of Improvement.
Thus Best practices in ERP implementation necessarily means iterating the process and making comparisons to achieve the desired results.
Ways
1. Clarity: The objectives for which the ERP implementation is intended has to be clearly laid down.who / which department in the organization needs it or for what results should be detailed and defined to avoid any further chaos.
2. Technology: Once the ERP requirements are defined, deciding on a right software for the same is very decisive.Depending on the processes, functional requirements and workflow,a well defined system like OpenERP or Odoo could be well leveraged on which is primarily open source ERP.
3. Getting the business geared: An ERP implementation necessarily will involve changes in process, workflow, functions etc as it will change or transform the  information flow across verticals and departments. So getting the business change ready and friendly is important to avoid the sudden jerk.
4. Training: Once the business is made ready for the implementation, there has to be proper communication on the changes intended to the stakeholders. At confianz we have a well equipped training team to hand hold the team during the transition phase.There should be a clear training process defined.
5.Time bound implementation:  Anything that's well begun is half done! understanding the business purpose and making proper plans to implement it has to be there which should have a clear timeline,start and end date.The time of implementation is very critical as the ERP system must be aligned to the line of activities.
6. Feedback: End to end support both financial and managerial has to underline the change management process and is one of the major aspects of ERP implementation. This is also essential to make sure the implementation has not  backfired.Choosing the right software but failing on any of the above phases can lead to a total mishap.
Hence ERP best practices are the optimal methods business needs to make sure is followed to leverage the best out of the change implemented.