Mobile Apps For Restaurants: Are They Important?
Some say to-ma-to I say to-mah-to ….in today's digital world, for restaurant owners the question isn't about pronunciation, it's about mobile apps. You may ask "is creating a mobile app worth the investment?" Absolutely, with the popular hashtag #foodie and other influencer favorites, mobile applications are boosting sales and filling seats faster than ever before. How many times have you seen someone hoovering a camera over their plate trying to get perfect mix of both angle and lighting for their favorite social media feed?
Benefits
Gain and retain customer loyalty (and repeat business) through customer experience.   
No more waiting in line for a table or on a long hold for reservations: it's all about convenience.  With mobile technology, patrons now have the ability to control their own experiences. Order online, receive up-to-date notifications through push notifications, stay abreast of the latest deals, menu items and changes. Mobile ordering alleviates human error, frustration and long lines. Restaurant owners have the ability to plan ahead (in most cases) and build a customer database through email capture that can be used for future promotion. Not to mention reduced lines and improved efficiency. Hosts and servers can focus on existing patrons.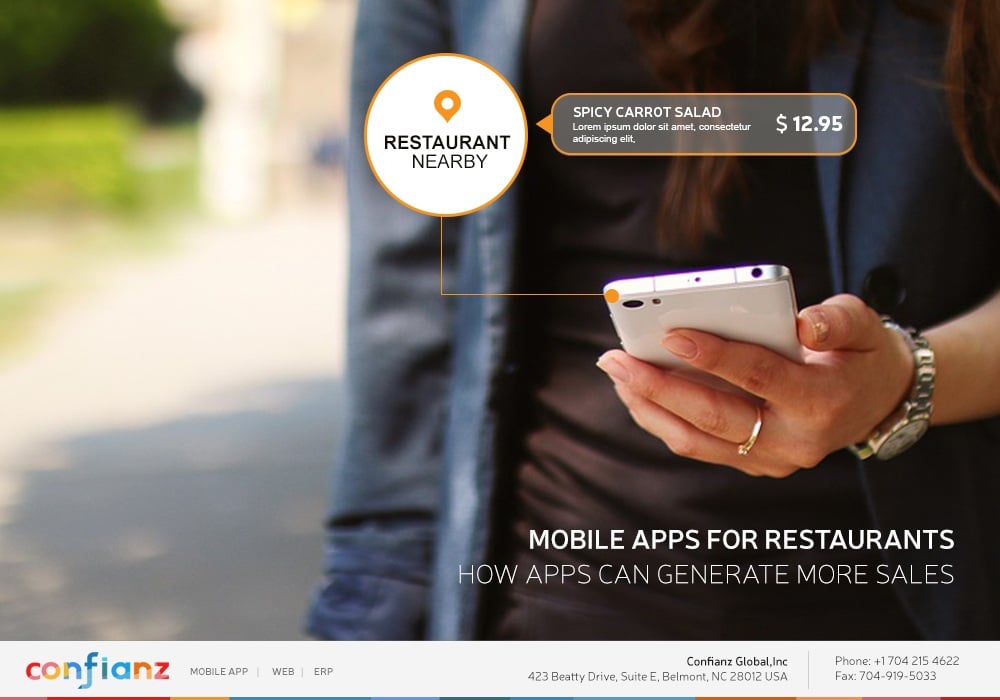 Increase in Order Fulfillment
Make-A-Foodie-Call, Postmates, GrubHub or UberEats? Yes, these applications are for the foodie who wants to enjoy food from their favorite restaurant. They have it delivered straight to their door. Using these applications, customers can skip the line, remove possible order mistakes and the hassle of having to leave the house. For restaurants, these delivery services offer an increase in order fulfillment with a decrease in foot traffic.
Customer Loyalty
When was the last time that you were asked to join a loyalty program or to signup for a loyalty card? Instead, customers are being directed straight to the app. Incentives to gather customer information include "free sandwich" or my personal favorite "free coffee." Yeah, I know it's all a ploy to get my name and email but hey being located 15 minutes from Charlotte it's all worth it. As a software company in North Carolina these types of loyalty perks are beneficial. Who has time to stand in line? With a digital loyalty program implemented restaurants are able to run multiple campaigns simultaneously. Free items, points and discounts are all mechanisms used to incentivize customers to continue to patronize the establishment.
In a Nutshell
The use of mobile applications, is a definite sales booster.  All it takes is the right planning and mobile app development company, like Confianz Global. We are only 3 hours away from Raleigh, North Carolina and 2 hours from Durham. This places us at the core of our community in NC. Not only are we knowledgeable in mobile app development, we are also local. That makes a win all around. Restaurants can definitely take advantage of a brand boost through the use of mobile applications. Just having a website is simply not enough. We are living in the digital age.  Customers are more likely to utilize their mobile devices when looking for something on the fly.
Want to know how much it cost to make an app? then try our mobile app cost calculator