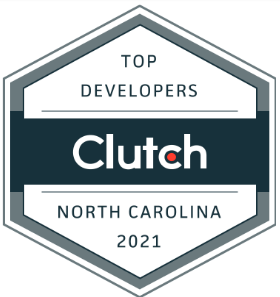 As technology advances at lightning speed each day, people get addicted to their mobile devices. Not only just for communication, but it has evolved into a highly important business tool. So, business owners seek the best and reliable partner to create applications for them. This is why Confianz Global, Inc. is here to help you!
For over a decade, our team at Confianz Global, Inc. has been building end-to-end integrated solutions for a complete automation experience that promotes business growth. As a top-rated app development company in North Carolina, our goal is to offer our clients top-tier and cost-effective app development services.
With that being said, Clutch, a B2B ratings and reviews platform based in Washington, DC recently announced Confianz Global, Inc as one of the top app development companies in North Carolina for 2021!
If you're not familiar with Clutch, it is the leading ratings and reviews platform for IT, marketing, and business service providers. They evaluate technology service and solutions companies based on the quality of work, thought leadership, and client reviews. Clutch Leader Awards recognize the highest-performing B2B companies by industry, service focus, and location every month and our whole team is extremely proud that we were included on their reputable list. Here's what our CEO had to say about: 
"Confianz Global Inc, DBA StackBench is thrilled to be awarded one of Clutch's top firms in the Carolinas."
— CEO, Confianz Global, Inc.
We would like to extend our heartfelt gratitude to Clutch for recognizing our dedication and hard works in helping our clients to succeed. Your team showcases client feedback, which was instrumental to our success. Of course, thanks to our amazing clients for your support and trust. We assure you that we will give our 100% best in everything we do.
Take a look at some of our stellar 5-star ratings:



Do you want to know who to trust? Talk to us, and let's talk about your business.