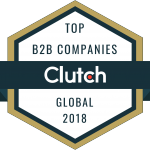 Efficiency is what separates the good from the great in the world of business, regardless of size or services offered. We are proud to offer services that utilize the latest technology to improve efficiency for businesses across a vast array of industries, addressing any number of unique challenges. Our work is unparalleled, and our results speak for themselves, but we are fortunate enough to have people that agree with us.
We are pleased to share that we have once again been ranked number one among the top ERP consultants in the world. This recognition comes to us courtesy of Clutch, a B2B ratings and reviews platform that helps businesses form smarter partnerships with service providers. Clutch uses several metrics, including marketing presence, previous work, and verified client reviews to gauge the quality of service providers across a number of industries. After being the subject of this research, we maintained our status as an industry leader on the platform, firmly establishing us as a trusted provider of Odoo solutions.

 In addition to being named top ERP consultants, we have also been highlighted as one of the top web developers in India by Clutch's sister-site, The Manifest. The Manifest is a resource that offers industry insights, how-to-guides, and recommendations of top service providers like us. They featured us for our ability to deliver for our clients, as well as for a project we completed with a mining company to bolster their digital presence. We are proud to be recognized as top web developers, and our inclusion on both Clutch's directory and The Manifest speaks to the quality of the work we provide.
 Industry authorities are not the only people to highlight the quality of our work, our clients have also been kind enough to share stories of their time working with us. When asked what they found impressive about Confianz Global( App Design & Development Company ) , one of our clients responded,
 "They understood the business and process level issues we needed to be resolved in a way that other companies didn't pick up on. They delivered on their promises and consistently met the scheduled deadlines. We also appreciated the forthcoming nature of their updates."
 Our approach to every project centers on our clients' needs, and their feedback is our most important metric for measuring our success. Check here to read the full review and see what else our clients are saying about us.
 We take pride in the success that we have found, but we recognize that we did not achieve it alone. Thank you to all of our amazing clients and partners for trusting us with your digital solutions and presence. Your support empowers us to do what we love, and we cannot wait to keep working with you.